As an Amazon Associate I earn from qualifying purchases.
Make your very own Christmas candle holders
A great way to make the Christmas mood enter your home is through the use of candles. Christmas candles provide the atmosphere with a warm and cheerful ambiance. With the days getting shorter, one is on a constant search of some light source.
In order to bring even more pleasure to the winter nights around the holiday season, one can make Christmas candle holders that are lit at sun set and provide us with a sense of felicity and peacefulness.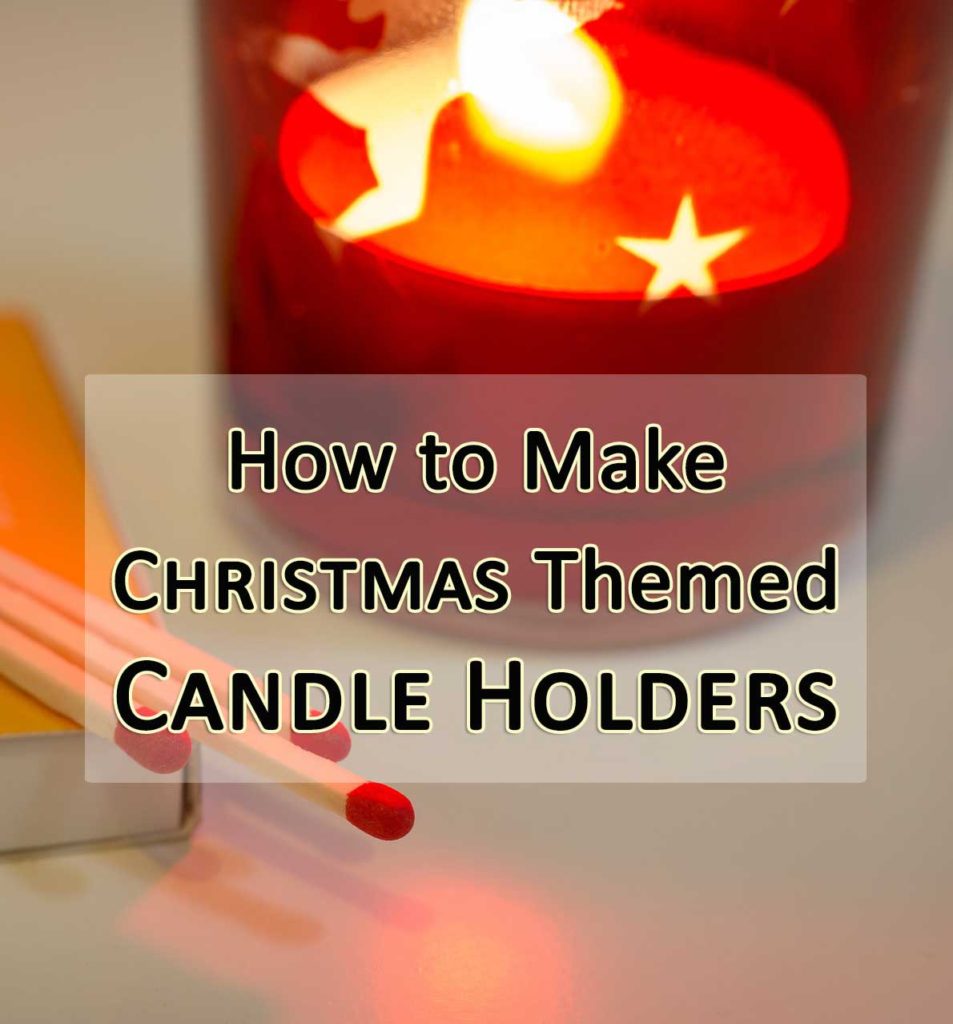 These decorating items aren't just fun Christmas crafts to make along with the kids but they are also wonderful homemade Christmas gifts to get those you care for.
Here are some ideas to help you start making your very own Christmas candle holders in which you can place standard tea lights or flameless lights.
How to make Christmas candle holders
Stained glass candle holders
You can make Christmas candle holders out of many different containers. A first example would be to make stained glass candle holders that are especially themed for the end of year holiday season. The principle of such a Christmas craft that you can make with the kids is that you should use glass jars such as Mason jars.
Once you have made a decision on the jar, choose tissue paper or Christmas napkins that are going to be used as decor. Stick them on the jars and voila, you have quick and easy faux stained glass holders ready to be lit. Though, these stained glass jars can work wonders on any occasion. Find tutorial to make this Christmas craft here.
Painted candle holders
Another great way to turn a simple glass jar or can that you're about to throw away into an exquisite Christmas candle holder is using paint. All you have to do is find some stencils if you are not familiar with drawing shapes or details and glass paint. Make sure to choose the right glass paint medium: whether you want to paint the glass entirely or just use the paint to draw specific shapes, the materials will be different.
Then you have also several options.
For the jar: paint it one color and glue Christmas scrapbooking items on it or paint specific Christmas symbols, shapes and characters along with details.
For the can: paint the cans different colors. Draw Christmas shapes, then make holes along the outline of these forms – this allows light to be seen through the holes.
Whatever the type of design you choose, make sure to put the finishing touches using a coat of glue. For a sparkling finish, sprinkle some glitter on the jar.
Tissue paper candle holders
A third great way to make Christmas candle holders out of glass jars is getting some Christmas themed tissue paper sheets. The Christmas candle holder creation process is easy: paint the jar one or two colors and cut out some of the figures from the paper. Then you are going to glue these shapes on the painted jar. This can be done on a non painted jar as well.
Once the jars are ready, you can insert a tealight in them and enjoy their warm and peaceful look. In any way, and for safety purpose, I recommend using battery operated tealight Christmas candles. Tealights that are powered by batteries work pretty well and more or less in the same way as standard tealights.
Example materials you will need for Christmas candle holder crafts
Nakpunar 6 pcs, 4 oz Mason Glass Jars for Jam, Honey, Wedding Favors, Shower Favors, Baby Foods, Canning, spices
ALEENES 15599 All Purpose Glue, 8-Ounce
Instapark® LCL-48 Battery-powered Flameless LED Tealight Candles, 4-Dozen Pack
C.R. Gibson 20 Count Lunch Napkins, Joy of Christmas
Entertaining with Caspari Cocktail Napkins, Sweater Party, Pack of 20
Pebeo Vitrea 160 Glass Paint Atelier Collection Set, 10 Assorted 45-Milliliter Colors and Accessories
Karen Foster Design Acid and Lignin Free Scrapbooking Sticker Sheet, Christmas Time
Jolee's Boutique Scrapbooking Embellishments, Christmas Cookies
Glitter Assortment 12 – 3/4 0z. Bottles
Miles Kimball Christmas Tissue Paper