As an Amazon Associate I earn from qualifying purchases.
Teddy Bear & bear tree ornaments are cute and make an ideal Christmas tree theme in babies and children's bedrooms. They also make wonderful gifts for the bear collector on your gift list.
Teddy Bear & bear tree ornaments kids' trees and collectors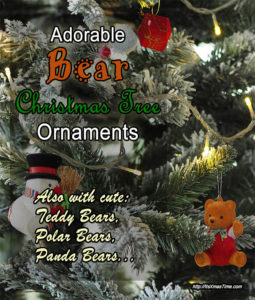 Setting up a bear & Teddy Bear themed Christmas tree is a good choice. Doing so will enable her to spend the holiday season in a never-ending wonderment. Teddy Bear and bear tree ornaments come in so many styles. They are also designed in diverse materials such as:
Mouth-blown glass
Resin,
Plastic,
Knitted or crocheted,
Crystal,
Porcelain,
Wood, etc.
The best elements for setting up a Teddy Bear themed Christmas tree are a dozen different Teddy Bears. You may also prefer to use just one style instead. Although these plush animals are in reality toys, they can make stunning decorations on their own. To say the truth, I think they work better as a whole theme.
Christopher Radko bear ornaments for Christmas trees
Christopher Radko offers a large range of different designs for bear ornaments, all delicate and shiny. As a matter of fact, the Radko decorations for Christmas trees are made of mouth-blown glass. You'll find all sorts of such decorative items in stores: from baby's 1st Christmas bear ornament to a Santa polar bear. Or from a guitarist bear to a panda bear ornament. Once hung from the tree branches, they sparkle and shine through the tiny twinkling lights.
Christopher Radko 2016 Tip Top Teddy Baby Girl Christmas Ornament – 5.5
Christopher Radko Glass Arctic Delivery Polar Bear Christmas Ornament #1017737
RADKO TEDDY CLAUS Teddy Bear Santa Christmas Glass Ornament
Christopher Radko Glass Czar of the Ring Teddy Bear Christmas Ornament #1017400
RADKO Bearly Pickin and Grinnin Teddy Bear Country Banjo Christmas Glass Ornament
Christopher Radko A WINTER BEAR'S HEART Blown Glass Ornament Aids Charity Panda
&
Other decorations made of hand-blown glass
Besides Radko, many other brands are known for the quality of their hand-blown glass ornaments for Christmas trees. Another popular one is known as "Old World". But you will also find some pretty well crafted glass decorative items from less known brands. And you'll be delighted to find out that you can even have black bear tree ornaments or koala bear ornaments for your tree.
Old World Black Bear Glass Blown Ornament
Old World Christmas Sleepy Bear Glass Ornament
Polar Bear Ice Fishing Christmas Ornament
Old World Christmas Panda Ornament
Old World Christmas Koala Bear Glass Blown Ornament
3.2″ Three Polar Bears Glass Ball Christmas Ornament
&
Bear ornaments made of porcelain, pewter, crystal and glass
Fact is that not all Teddy Bear and bear ornaments are made of blown glass. Instead, they are produced in various materials such as porcelain, crystal, pewter, silver, etc. For example, Lenox produces porcelain decorations for the tree while Swarovski supplies crystal ones. When you choose such ornaments make sure they won't be too heavy for the branches.
Spode Tree Ornament, Teddy Bear in Stocking
Snowbabies Polar Delivery Ornament
Personalized Pewter July Birthstone Bear Ornament
Pewter ~ Grizzly Bear ~ Oval ~ Holiday Ornament
Swarovski Kris Bear-Christmas Ornament, 2015
Grizzly Bear Glass Christmas Tree Ornament
&
Resin bear decorations for Christmas tree
Christmas tree ornaments made of resin are the most resistant ones that you can find. In addition, they come in a wide array of cute designs, bright colors and fun styles. Whether Santa polar bears, old-fashioned Teddy Bear, all are adorable and meant for a wonderful Christmas tree theme.
Cherished Teddies Treasured Toyland Bear Ornament
Kurt Adler Coca-Cola Resin Polar Bear Cub Ornament
Bearfoots Black Bear 3 Christmas Festivities Ornaments Set
Jim Shore Heartwood Creek, First Christmas Pink Bear Orn
&
Wooden bear and Teddy Bear decorations
Some of these ornaments are made of wood. The designer generally carved a piece of wood and turned it into fantastic artwork. You will find simple bear drawn and painted on a piece of square wood but also intricate designs.
Santa bear Christmas tree Ornament Intarsia Wood Mosaic
White Ice Polar Bear with Hat and Scarf German Wooden Ornament
Cute Polar Bear Design Wooden Christmas Tree Ornament
Wooden Bear Laser Cut 3D Christmas Tree Ornament-Cape Shore
&
Plush bear ornaments
Are you found of plush bear ornaments for the tree? You can find such items in stores too.  Plush decorations provide the tree with a country and old-fashioned style. Actually, the kind of style that brings a touch or peacefulness to the decor.
6.75″ Brown, Gray and White Plush Teddy Bear Christmas Ornament
Hallmark Kids' Snowball the Polar Bear Plush Ornament
Bohemian Plush Polar Bear Girl Ornament
Set of 12 Holiday Decorated Plush Bear Ornaments
&
More Teddy Bear and bear decorations for your tree
The list of Teddy Bear and bear decorations for Christmas trees is quite long. If you haven't found the ornament that you want for your baby's tree or the collector on your list, you can start a search in the form below.


---
Enregistrer
Enregistrer