As an Amazon Associate I earn from qualifying purchases.
One of the ways to make Christmas a joyful moment for your children is through the use of Nativity sets for kids. There are many sets featuring Baby Jesus in the crib along with his parents and the Three Wise Men and all are designed with children in mind. They also come in different sizes, colors and models.
Nativity sets for kids help your little ones to learn the true meaning of Christmas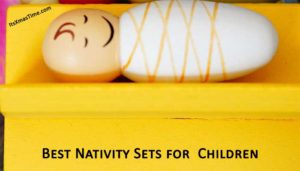 You can teach your children the actual meaning of Christmas time with Nativity sets for kids. While these sets alow them to display a wonderful religious scene in their own bedroom during the holiday season, they also provide them with entertainment. These sets are all educational and fun at once.
Christmas Nativity sets for kids bring life and fun to your children's Christmas experience. Most of these sets are colorful and indestructible and do really encourage playing. There is no better way of immersing kids in the spirit of Christmas than putting an attractive crib in the house.
Some of the common Nativity sets for kids include well-known brands like Playmobil, Fisher Price and Melissa & Doug.
Little People Christmas Story Nativity with Lights and Sounds
Fisher-Price Little People A Christmas Story
&
Featured on the picture above, it is produced by the well-known brand Fisher Price. This Little People Christmas Nativity among the most popular Nativity sets for kids on the market. Certainly because Little People are cute toys, they make exquisite decorating items in a kid's bedroom as well as are agreeable to pay with. Moreover their size suits kid's hands perfectly and they come in bright colors; which is something that little ones really love.
The Nativity set lights up and is even able to play the carol "Away in the Manger". It also comes with 12 figurines including Baby Jesus in his crib, Mary and Joseph, the Three Wise Men and some animals. The stable is topped with an angel and surrounded with palm trees, small stone-like walls, and accessories for animals.
For the set to light up and play Christmas carol, you'll need 3 AA batteries that have to be purchased separately.
Talicor Plush Nativity 11 Piece Play Set
Talicor Plush Nativity 11 Piece Play Set
&
From Talicor, this Plush Nativity set is the perfect set for toddlers. This plush Christian scenery includes 10 stuffed plush figurines: Baby Jesus, his parents, the Wise Men, animals and a shepherd. These cute figures measure 4″ height, which ensures your little ones won't find tiny toys in this set.
All these characters can be displayed in the open manger and stored in it once closed. The manger comes with a handle so as to make it easy to carry and move from one place to another. Manger dimensions: 12 x 10 x 5.5 inch.
Because it's made out of stuffed plush materials, it's ideal for babies and toddlers as they won't risk having their little hands hurt by sharp edges or ingest any item. As you can see, the figurines are detailed and come with a very attractive appearance.
Melissa & Doug Nativity Set
Melissa & Doug Classic Wooden Christmas Nativity Set With 4-Piece Stable and 11 Wooden Figures
&
Produced by the well known brand that designs fantastic kids' toys and accessories, Melissa & Doug's Nativity set is an adorable educational toy and Christmas decorating accessory that is designed with children in mind. This kit is one of the many wooden Nativity sets for kids on the market. It consists in a stable that children will easily assemble (4 pieces) as well as 11 wooden figurines (Mary, Joseph and their Baby Jesus, the three Wise Men, and more).
Each piece is made out of wood and comes with details so as to provide your kids with solid materials. Wooden toys aren't just solid toys, they're also beautifully designed and add a little something to your child's educational and fun playtime. The set also includes a Christmas story so as to enable kids to re-enact the Christmas crib scene.
Puppet Company Christmas Collection Nativity Set
The Puppet Company – Christmas Collection – Nativity Finger Puppet Set [Toy]
&
There are many other Nativity sets for kids available in stores. For example the Puppet Company Christmas collection Nativity set. It is a finger puppet set that makes it great to bring the story of the birth of Jesus to another dimension. Children can thus create and recreate as many stories as your they want to.
The set comes with Mary, Joseph, baby Jesus, the 3 wise men, the shepherd along with an angel. These finger puppets measure around 8 inches.


---