As an Amazon Associate I earn from qualifying purchases.
Beautiful Christmas trains for under the tree
A holiday train riding around the tree on Christmas morning is something that adds a touch of cheerfulness to the room and enhances the time children spend in opening their gifts. It also reminds us from our own childhood and warms up our hearts.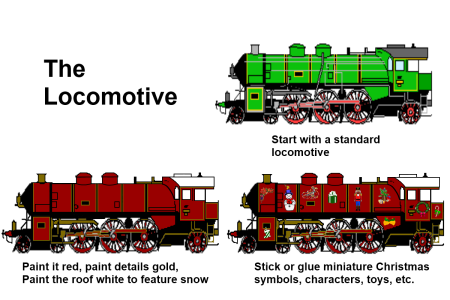 However ready-to-go Christmas trains for under the tree bought from the stores might sometimes be expensive and you may not have the budget to buy such a decoration. If you wish to spare some money or just don't want to spend too much on a holiday themed train for around the tree this year, then you should make your Christmas train.
How to make a Christmas train
Yes you can make a Christmas train yourself. The best part of this homemade holiday craft is that you can personalize it as much as you wish. You can add tiny characters such as Santa, reindeers, elves, tiny toy gifts, passengers, and more. It's all up  to you and your personal tastes.
For example, you can turn your existing kids toy train into a wonderful Christmas one that is going to ride around the tree. Ensure that your train includes a passenger car with opening doors as well as a platform or gondola. In the passenger car, you can glue some tiny characters or, if the train you have on hand doesn't come with opening doors, you can stick character's heads cut out from stickers or images you find on the Web on the windows.
The platform can feature a special Christmas scene like Santa's sleigh lead by 2 or 4 reindeers. It may also consist in elves sorting tiny toy gifts. For a more realistic look, you can even feature snow on the engine and caboose roofs. As you can see there are many ways to make a Christmas train that is going to stand out.
Materials to create your very own train for under the tree
Directions
Let's start our journey to make a Christmas train by painting the train cars and engine. For example you can paint the locomotive red, the tender black, the gondola green and the caboose red. Another option is getting a green and red cheap train set so as to be able to skip this part of the task.
The next task consists in providing the train with snow on its roof. Paint the roofs white and before the paint has dried, sprinkle silver glitter on it – not too much, though, but just enough to make the paint look like snow.
Once the paint has dried, you're going to stick the tiny Christmas decorations you've bought from the craft store. For such a job you'll have to use craft glue. Let's see item after item what you're supposed to do to costumize your Christmas train.
The locomotive: if it doesn't have some, get two Christmas bells that you can stick on the locomotive roof, using the tiny pain brush, paint fine gold accents on each side of the locomotive.
The tender: this item is now painted black. Glue tiny gold stickers or using the tiny paint brush paint some holiday accents on each side of it. This will provide it with a very festive look.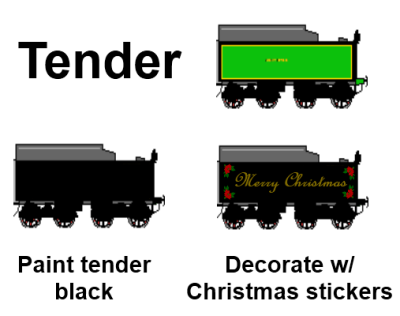 One other step that you can't forget about when you make a Christma train is the gondola. In order to decorate the gondola you are going to proceed like you did for the locomotive and tender. Stick tiny garland decorations. Once your satisfied with the platform look, set up your scene. There are several options to do this:
Using a tiny Santa sitting on a sleigh and, using fine gold cord, attach two or four tiny reindeers to it.
Place a bunch of miniature toys and gifts along with a few elves so as to provide the impression they're sorting the presents to give kids on Christmas night.
Glue a miniature Christmas tree in the middle of the gondola, then add some tiny toy gifts all around it.
The passenger car or the caboose: once again, you will glue mini Christmas wreaths under each of their windows and stick character images on the windows themselves. If the car can be opened, you can have some mini figurines sitting on the seats.
Now your train is ready to run around the tree. On Christmas eve, when the kids are in bed, assemble the tracks around the Christmas tree and place the train on them. I suggest to not place the tracks on a carpet as, in order for them to not fall apart: they need a plane surface.
Wake up earlier than the kids on Christmas morning and turn the train power "on". Have the CD player play joyful Christmas songs and carols.
Now that you know how to make a Christmas train, go make yours… This train will work wonders around the tree and your kids will be proud of your achievement. Happy Christmas!
---