As an Amazon Associate I earn from qualifying purchases.
Upcycled mini Christmas tree for your table
If you are fan of homemade pieces of art and fan of mini ornaments, then you are going to enjoy this Christmas craft tutorial. Here I'm about to show you how to make an upcycled mini Christmas tree for your office, your study or any other area of your home. If you love crafts, then you are going to love this idea.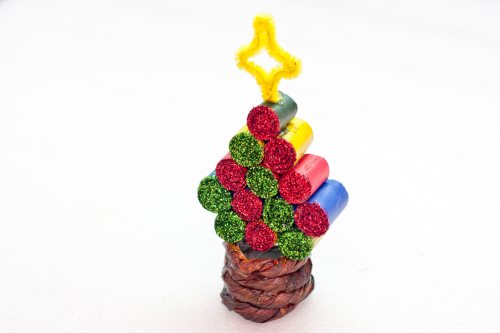 If you love recycling old things, then you are going to love this craft even more. Not to mention that you are going to own an unique tabletop decoration.
Convinced? So let's begin this Christmas craft tutorial and here's you to your next one of a kind upcycled mini Christmas tree.
Materials you will need:
Some newspapers,
Blue, red, yellow and brown acrylic paints (more colors optional, you can replace yellow with gold)
One pipe cleaner (your favorite color),
A hot glue gun,
Scissors
Some pots glitters (red and green but more colors are even better),
1 Ruler
Paint brush
Directions to make this adorable upcycled mini Christmas tree
Fold the newspaper sheet in half, then fold this half part in half and so on, so as you can see on the picture above.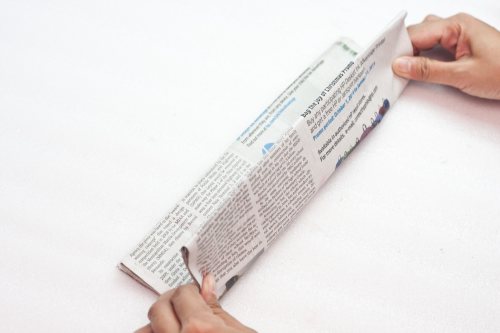 Cut the sheet into parts measuring +/- 1″ in width each.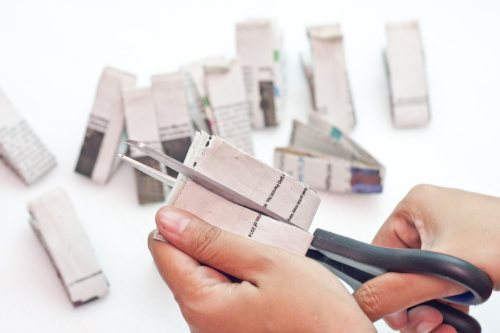 Now roll each cut piece of this newspaper sheet so as to form cylinders. Make sure they're firmly rolled: no space can show up. Secure these cylinders with glue. You should have 13 rolls for this Christmas craft.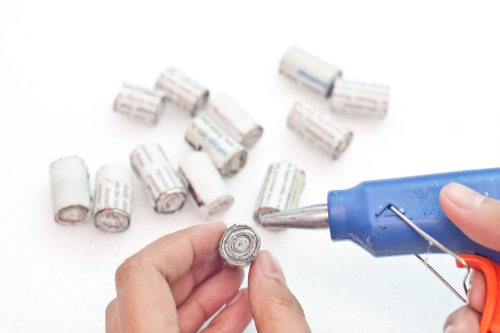 Paint the cylinders – if you stick to this craft material list, you should have 1 green, 3 red, 4 blue and 5 yellow cylinders.  Allow to dry. A second coat can be applied if needed.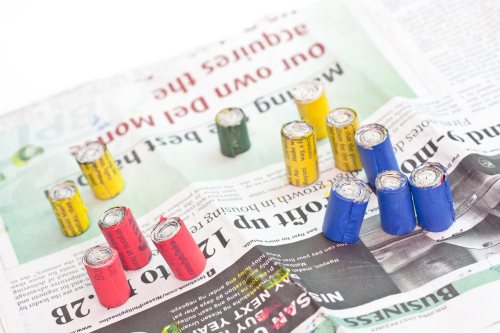 Apply craft glue on the bottom side of each cylinder.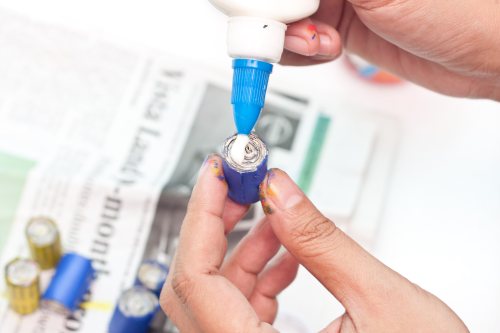 Dip the side coated with glue in the glitter pots. Make 7 green and 6 red glittered cylinders (or vice versa). If you opted for an additional glitter like gold, you should have 5 green, 4 red and 4 gold glittered cylinders.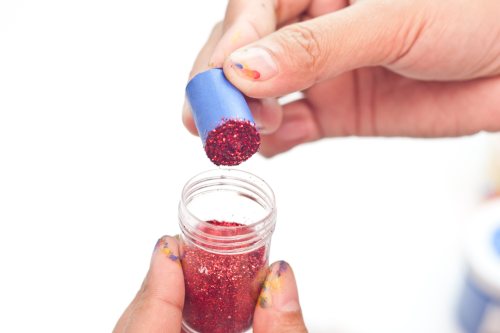 Allow the glue to thick. Repeat the process on the other side of the cylinders. These make fantastic sparkling embellishments.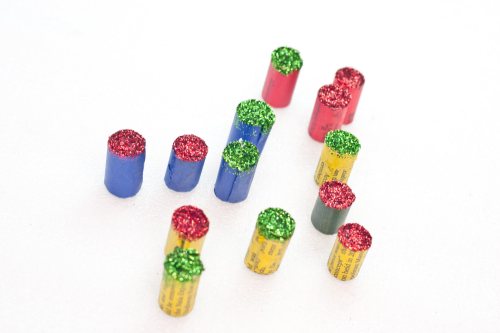 Take another sheet of newspaper and firmly twist it. You are going to use it as the base of your upcycled mini Christmas tree.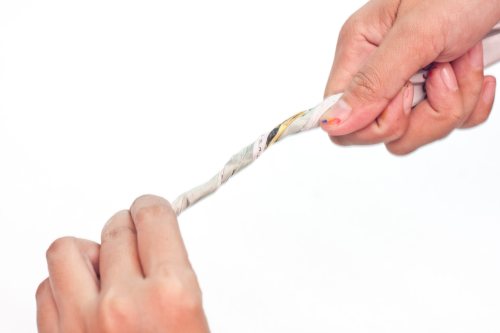 Using one of the bottles of glitter, wrap the twisted paper around it. Secure each layer with some glue. Do NOT glue it on the bottle. Once dried, you are going to remove it from the bottle and use it as the tree base. Wrap and glue it until you have your desired height.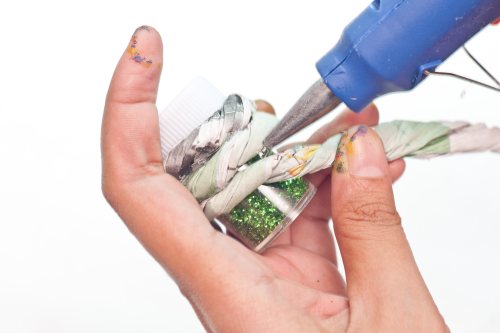 Once the base has dried, paint it brown. Allow to dry. Apply additional brown paint coats if you need.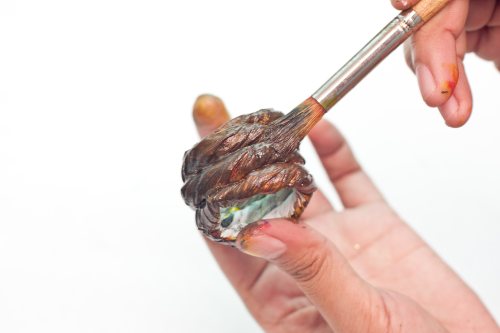 Now let's assemble this cute upcycled mini Christmas tree. Glue two yellow cylinder together. Next, glue a green cylinder onthe center of the two yellow ones.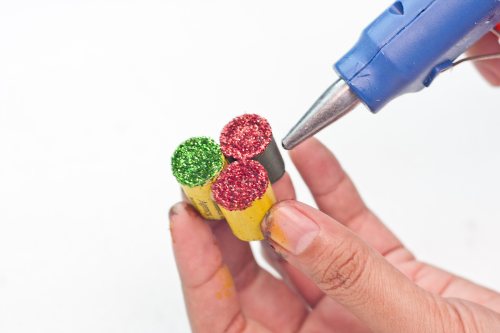 Glue the red layer (3 cylinders) to the yellow one. As you can see on the picture, the glitter colors are aligned in a diagonal way. Using the 4 blue cylinders, glue them to the 3 red rolls. Now you have a triangle made out of all your colored and glittered rolls.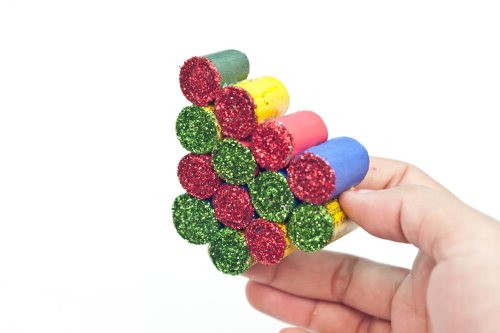 Finish up the body of your cute homemade Christmas tree by gluing the remaining three yellow cylinders to the blue rolls.
There can't be a beautiful Christmas tree without a star. This is our next step. Take the pipe cleaner and form a star (see picture above). Glue this star on the top of your upcycled mini Christmas tree. Note: the top of this tree is the green cylinder.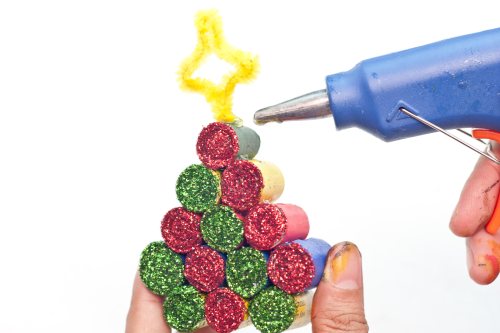 The very last step of this Christmas craft is gluing the tree to its base.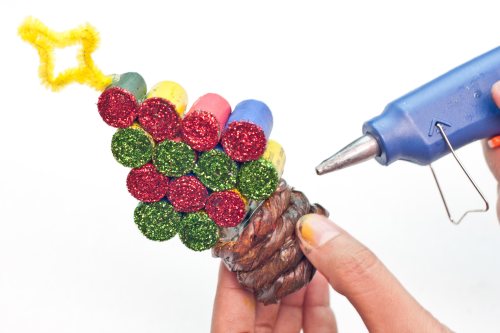 Here you are: your cute upcycled mini Christmas tree is ready to use.
Now go on and make some more using as many colors as you want. You can even glue artificial gems to such a lovely tree.
If you want to create bigger tabletop Christmas trees out of recycled materials, you can use corks or even toilet paper rolls. Once painted, you can glue them in the same way as the newspaper cylinders and decorate in any way you want.
Whether placed in the office, the living room, or any other area of the home you are going to enjoy the sparkle of this adorable upcycled Christmas tree that you created yourself.
---