As an Amazon Associate I earn from qualifying purchases.
Christmas candles are extremely popular when it comes to the end of year holiday season. They're certainly one of these festive decoratint items that we find by the dozens in each home. When lit, Christmas candles create special atmosphere to your rooms and they make the holiday season ambiance even more special. So, I bet this year, you're going to spread some Christmas candles all around the living and dining room; whether standard candles, coloured candles, scented candles, etc.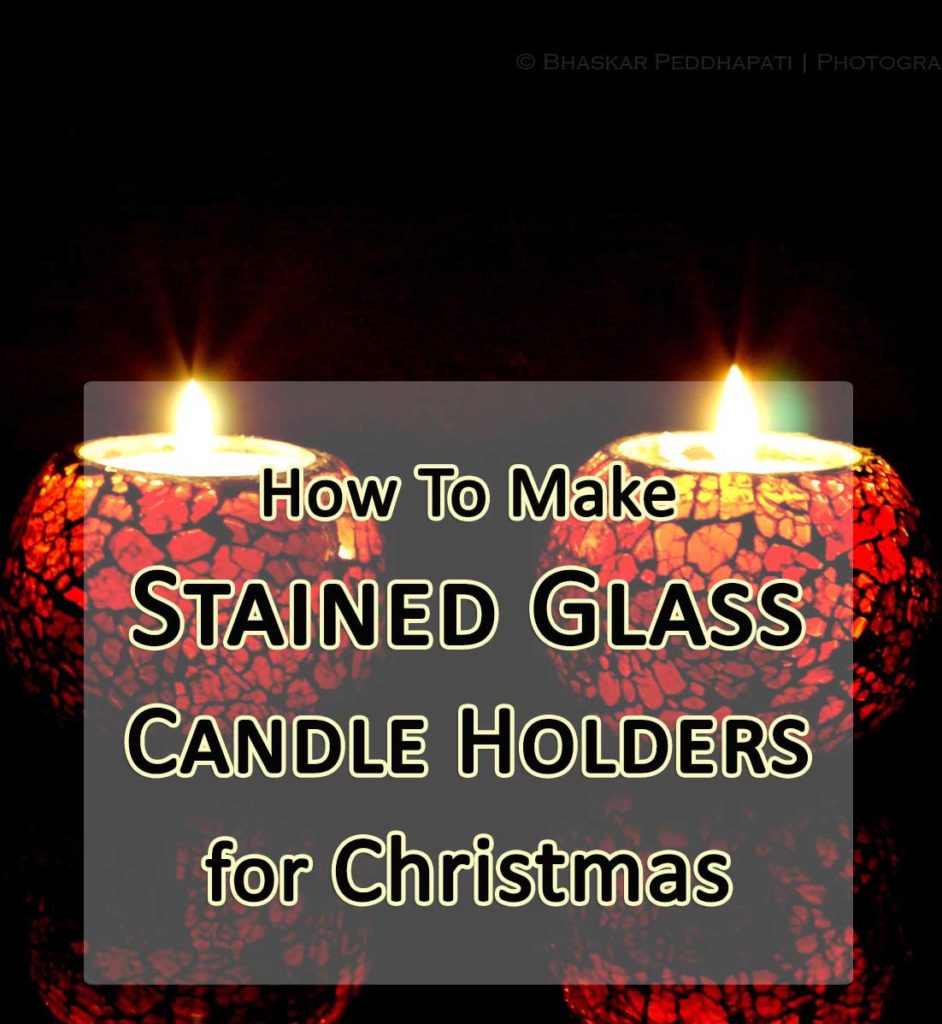 How to Make Stained Glass Christmas Candle Holders
Create faux stained glass effects
Making stained glass Christmas candle holders isn't hard to do. Glass jar make wonderful candle holders and, with a bit of imagination and some materials, you can turn your old yogurt jars in lovely faux stained glass Christmas candle holders.
Here's what you need to make those Christmas candle holders:
Canning glass jars – they may be yogurt jars, for example – that are big enough to place a tea light inside them,
Tissue paper sheets – preferably Christmas colours such as green, red, white, gold, silver…
Craft glue
Scissors
Craft decoration items such as holiday themed ribbons, mini-Christmas scrapbooking stickers, balls, glitter, etc.
Tea lights
Nakpunar 6 pcs, 4 oz Mason Glass Jars for Jam, Honey, Wedding Favors, Shower Favors, Baby Foods, Canning, spices
Miles Kimball Christmas Tissue Paper
ALEENES 15599 All Purpose Glue, 8-Ounce
Morex Ribbon 900/24-1211 Bobbin Christmas Variety Pack Grosgrain and Satin Ribbon, 5/8-Inch by 3-Feet and 3/8-Inch by 4-Feet, Assorted
Carta Bella Paper Company Christmas Time Collection Scrapbooking Kit
Instapark® LCL-48 Battery-powered Flameless LED Tealight Candles, 4-Dozen Pack
Instructions to make faux stained glass Christmas candle holders:
Cut tissue paper sheets into small squares, triangles, rectangles
Add a coat of glue on the jar and stick the small shapes of tissue paper on it in order to form some kind of stained glass decoration
When the jar is entirely covered with the different shapes, glue other decorating items such as Christmas trees or snowmen
Cover the whole jar with a new coat of Craft glue
Sprinkle the jar with some glitter
When the jar dried, insert a tea light inside
Use colored ribbons to tie a bow around your brand new stained glass Christmas candle holders
Note: do not decorate the inside of the jar as you are going to lit the tea light.
Tip: you can also cut tissue paper into Christmas shapes such as candles, mistletoe, etc. and stick one or two on the geometrical forms in order to increase the "stained glass" aspect of your jar.
Make your own stained glass candle holder