As an Amazon Associate I earn from qualifying purchases.
How to make themed Christmas wreaths at home
Homemade Christmas wreaths as so much more valuable than processed ones… These types of garlands are commonly found in many homes as ornaments during the holiday season. There are different varieties of artificial Christmas wreaths sold in stores. These range from wreaths that are made from artificial green leaves to those that are made out of different colorful garlands.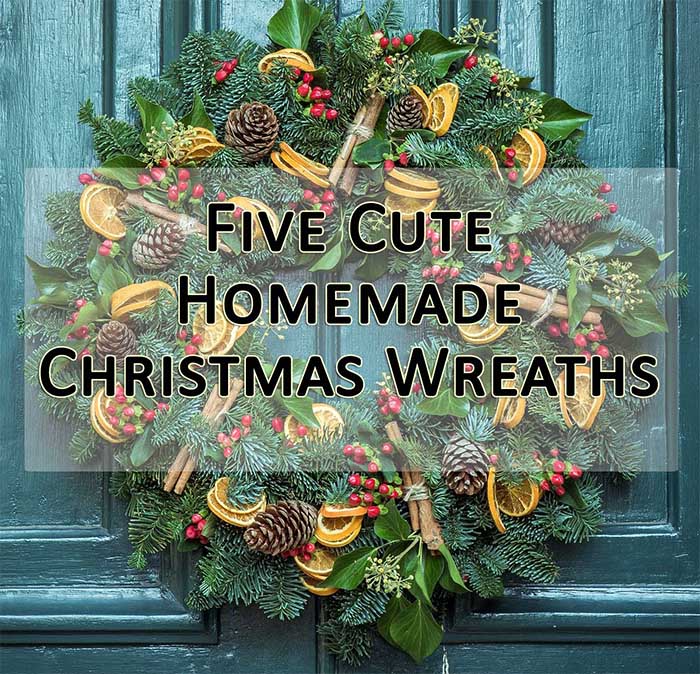 If you want to get some ideas for homemade Christmas wreaths, you will want to try one of the 5 cutest ones listed below. They are stunning, yet easy to make wreaths using natural or artificial materials.
Make a traditional Christmas wreath
A first garland that you can make is the traditional one. It makes your home door look old fashioned and festive all at once. These garlands conceived for doors are made out of natural green leaves, evergreen, pine cones, nuts, berries and ribbons. They are really easy to produce and provide you with an outstanding result.
Homemade fruit Christmas wreath
Holiday Magnolia Wreath – Gift Baskets & Fruit Baskets – Harry and David
In the past, Father Christmas used to get fruits to wise kids. Homemade Christmas wreaths created around fruits are thus perfect for the season. These will provide your home with a colorful look.
Use evergreen branches for the base. Arrange berries, cherries, grapes, apples, lemons, oranges and other fruits on the base. If you do not wish to glue or pin the fruits, you can use this decoration as table centerpiece. Although your craft is supposed to be creative and have a stunning outcome, make sure nobody does eat the fruits you stuck on it.
The beauty of such a garland is that it is going to look like an actual Victorian decortive element. Actually, Santa (or Jolly Old St Nicholas) used to give wise children some fruits on Christmas time. Adding fruits to your wreath is a relly festive way to revive those good old times.
Red flowers and ribbons
To make that Christmas decoration, you will be using evergreen for the base instead of natural leaves. If you have a garden, cut some winter flowers and pin or stuck them on the garland. If youd don't have a garden or do not want to use fresh flowers, then opt for silk items instead. Make sure you use red flowers so as to have one of the main colors of the season on the wreath.
Roses, poinsettia flowers and carnations fit very well for that kind of ornament because their red colored flowers are very intense. Alternate flowers with red ribbons. Spread some tiny gold painted bells so as to make the red floweres stand out. Remember to top it with a big red ribbon (that can be used to hang the item on your front door).
Red chili pepper Christmas wreath
Based on the chili pepper, this Christmas decoration you can make at home is definitely a one-of-a-kind decorating item. For such a job, you will need chili pepper from your garden or kitchen. If you don't have fresh chili peppers on hand, get some from the store. Use natural rafia ribbon for the base. Alternate with some evergreen branches. Glue red chili peppers on this decorative base. Finish the item using a bow made out of natural raffia.
If you do want the wreath to be edible, use herb leaves for the base and pin the chili peppers on it instead of gluing.
Homemade Christmas wreaths with a cinnamon theme
Another unusual idea for homemade Christmas wreaths; the cinnamon stick theme. For you to make such a decorating item, you will need to use both green and red cinnamon sticks. They can be found in any good supermarket. There are different ways to create cinnamon themed garlands. The one I suggest here is made on a base of evergreen or natural leaves. Arrange a mix of red and green cinnamon sticks, gold painted pine cones, green and red bows, along with berries. Glue or pin some sliced oranges, lemons and glue a few cloves all around your superb craft. Cinnamon sticks will not only make your homemade Christmas wreath look beautiful but it will also smell good.
Here is a video that uses more or less the same design as described above.
Source: Christmas wreath ideas
Materials you need for such crafts
Some materials are necessary for you to start making your very own Christmas decorations at home. The indispensable elements include a frame (made out of wire or straw or it can be a floral form). You will also need picks and a tool to cut them. An alternative is the hot glue gun however for some projects, picks are essential. As for the decorative elements, they all depend on your own preferences. If you want to make a 100% natural project then buy from the store. But you may prefer to work with artificial materials (which are bound to last longer than natural ones).
Wire Wreath Frame 12
FloraCraft Straw Wreaths, 14-Inch Straw Wreath
8-1/2″ Oasis Wreath Ring – 2 per pack
24 Gauge Oasis® Floral Wire – Pack of 300
FloraCraft Floral Accessories Floral Tools, 6-1/2-Inch Wire Cutter
Surebonder HE-750 High Temperature Professional Glue Gun – 80 Watts
Package of 12- Artificial Snowy Holiday Evergreen Podocarpus Picks!
Package of 24 Glittery Red Artificial Berry Picks
Beautiful and Life Like Artificial Assorted Red Rose Bouquet Perfect for Centerpieces
Package of 12- Natural Lacquered Pinecone Picks
Christmas Flowers Florals C3790 Mistletoe Pick w/ Red Satin Bow
Pine And Bell Pick
Christmas Decoration Christmas Floral Pick Glittered Seed Bery Spray Green – Pack of 2
Set of 6 Red and Silver Glittery Ornament Ball and Present Mixed Holiday
Package of 12 – Elegant Holiday Metallic Gift and Ornament Picks
Package of 24 Winter Look Artificial Pine Picks for Christmas Flower Arrangements
More themed homemade wreaths for the holidays
Making Christmas themed wreaths is easier than you can think. All you need is a base – whether evergreen or leaves or even both – and come up with an idea. Just stick, glue or attach the miniatures you selected to the wreath, add a few decorations such as ribbons, berries, nuts. Candles work also pretty well on Christmas wreath table centerpieces. For a more seasonal effect, spray some artificial snow on the decoration.
Here are a few ideas for you:
Kitchen accessories
Teddy Bear and other bears
Toys
TV series (Dr Who, Downtown Abbey and the like)
Fifties series such as I Love Lucy
Cartoon theme (The Simpsons, Betty Boop, etc.)
Disney movies
Rudolph and Friends
I Love New York City
Travel around the World
Drink theme
Angels
Santa's Helpers
And more.
All you need is add some balls, ribbons, pine cones, candles and make decision on whether you're going to make a door wreath or a table centerpiece.
---